The New Chitose Airport limousine buses provide comfortable seated rides with no need to transfer from one bus to another between New Chitose Airport and various Sapporo City locations, including Susukino, Odori Park, Sapporo Station, major subway stations, and hotels.
Buses load and unload passengers at convenient stops near the arrival and departure lobbies of the Domestic Terminal Building and load passengers at the International Terminal Building.
Buses pass at roughly 15-minute intervals on the routes linking central Sapporo with New Chitose Airport, served jointly with Hokuto Kotsu. On buses operated by Chuo Bus, passengers can pay fares using transportation IC cards like Suica and PASMO and use free wi-fi.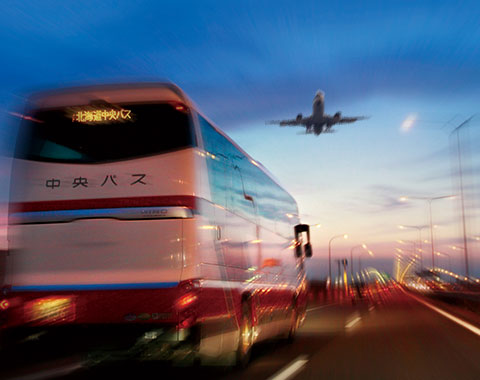 These buses travel regular sightseeing routes to tourist sites in central Hokkaido.
Featuring reserved seating, these regular buses make tours of well-known sightseeing spots and facilities in Hokkaido. Each bus will depart even if only one seat is reserved. This means your bus will not be cancelled due to low passenger demand.
The buses offer numerous routes, including tours through the cities of Sapporo and Otaru and routes for Shakotan and Niseko, Lake Shikotsu, Furano and Biei, and Asahikawa. Some routes offer multilingual audio guide systems and other features for visitors from overseas.
In winter, buses also go to Hokkaido's leading ski resorts. They've earned a strong reputation among skiers and snowboarders from across Hokkaido and elsewhere.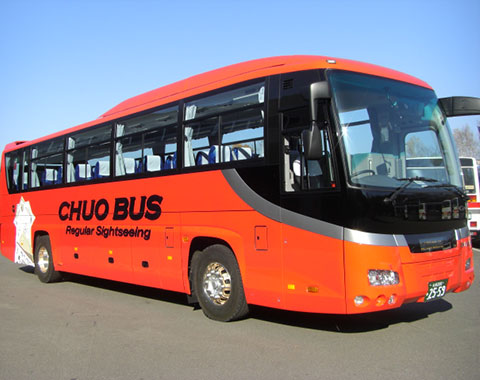 Thanks to its focus on easy and medium-level slopes, Niseko Annupuri International Ski Area is a popular ski area among beginners and families who enjoy skiing in Niseko, an area that tends to feature steep slopes for advanced skiers. In recent years, Niseko Annupuri International Ski Area has emerged as a bustling international resort area that draws many skiers from around the world.
During the summer season from July through October, the resort operates sightseeing gondolas offering panoramic views of Mt. Yotei, Lake Toya, and the Sea of Japan. Other summertime attractions include mountain climbing and trekking.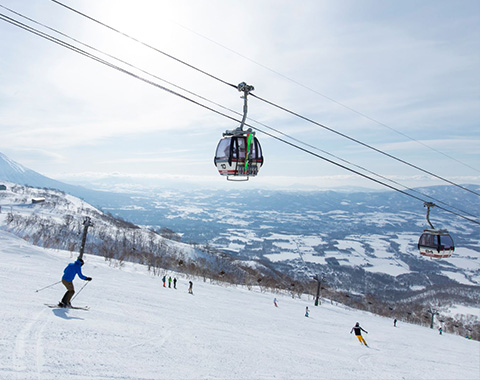 The Otaru Tenguyama Ski Area has produced numerous famous skiers and Olympic athletes. Offering magnificent views of the town of Otaru from the summit, it's earned a star in the Michelin Green Guide Japan. The view of the town lights at night, which sparkles like jewels, is said to be one of the three best nighttime views in Hokkaido.
The resort is popular year-round, and the Ropeway operates all year. In recent years, it's attracted many travelers from overseas who come for the winter sports and the summit views.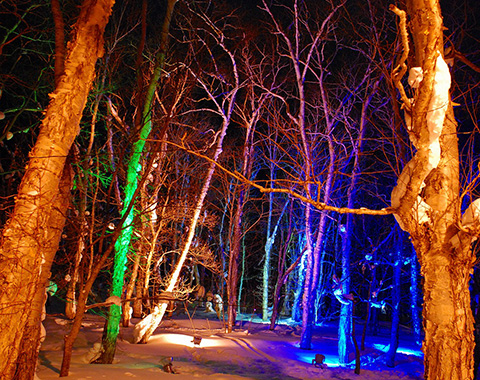 Located in a setting of great natural beauty at the southern base of Niseko Annupuri, this hotel features large baths fed by hot springs. Here you can enjoy a modern interior atmosphere that fuses Japanese and Western influences. All rooms are equipped with Wi-Fi access. The hotel serves seasonal Japanese meals prepared using local ingredients. The large baths are equipped with lounge bathtubs and saunas, in addition to the main bathtubs. Surrounded by the woods, the outdoor baths are fed by free-flowing hot spring water directly from the source. Guests praise the waters' moisturizing effects, which help beautify skin.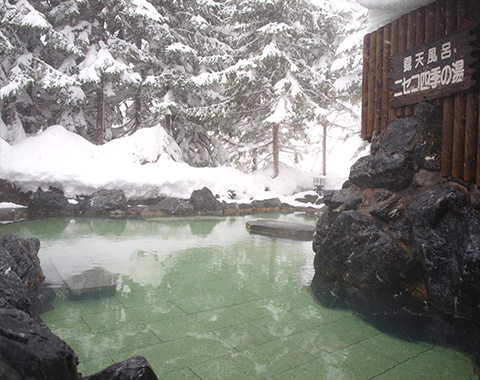 Once purchased, these passes let you take airport buses, intercity high-speed buses, and regular route buses at no additional charge. Two types of passes are available: the Hokkaido Budget Bus Pass, which can be used throughout Hokkaido, and the Inter City Bus Pass, which can be used in Sapporo and surrounding areas. These passes provide outstanding bargains for those traveling in Hokkaido.